Clinical Trials Logistics Core
The Clinical Trials Logistics (CTL) Core supports the RCCWB in the development and implementation of prevention research involving clinical trials and human participants. The CTL Core collaborates with the Statistical & Data Management (SDM) Core to support research projects led by the RCCWB's early-career investigators with respect to community engagement, recruitment, implementation, and related scientific and logistical facets. The CTL Core provides center scientists with the necessary structure, equipment, and technical assistance to rigorously implement interventions within real-world settings. In consultation with the RCCWB's scientific mentors, the CTL Core supports the development and submission of high-quality R01 and R01-equivalent grant applications in line with the center's central theme.
Core Activities 
• Provides guidance over measurement planning and data collection, including assessment of measure feasibility and adequacy.
• Interfaces with IRB and assists investigators with human subjects requirements and reporting.
• Advises on design of consent forms and consenting process.
• Plans procedures and strategies for participant recruitment and retention, with an emphasis on the enhancement and achievement of meaningful diversity.
• Guides and assists investigator teams in the use of qualitative methods, including focus groups and interviews.
• Assists in grant application development and submission processes.
• Hosts and conducts workshops and other learning opportunities for RCCWB members as well as campus-wide scientists, students, faculty and staff.
Evidence-Based Models Applicable to Prevention Research
NIH Stage Model for Behavioral Intervention Development
The NIH Stage Model emphasizes identifying mechanisms of change within interventions, including prevention, that may allow for scaling and efficacious adaptations in practice while maintaining fidelity. Using this model, among others, the CTL Core works alongside RCCWB scientists to maximize the implementability of their interventions, preserving fidelity, and ensuring success in the diverse communities in which these interventions may live.
Source: NIH Stage Model for Behavioral Intervention Development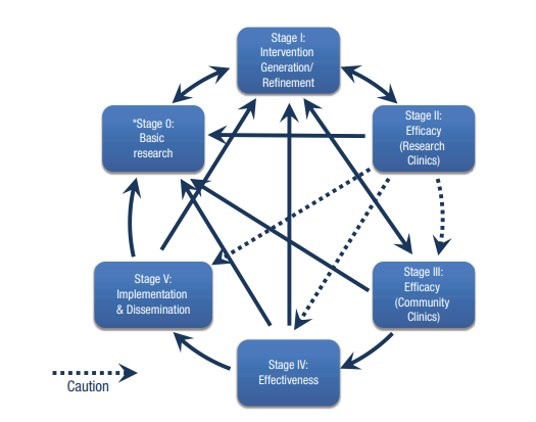 ORBIT Model
This model focuses on the early, pre-efficacy phases of behavioral treatment development. Its emphasis on a progressive and transdisciplinary approach resonates with the RCCWB's aims. Incorporating this model into its toolbox enables the CTL Core to adopt a responsive, iterative, and rigorous approach regarding its activities, particularly around feasibility, participant recruitment and retention, and potential for impact ultimately leading to larger efficacy trials.
Powell LM. Chapter 3: Behavioral Treatment Development. In LM Powell, KE Freedland & PG Kaufmann (Eds) Behavioral Clinical Trials. NY: Springer, 2020